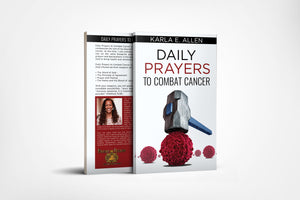 Daily Prayers to Combat Cancer
Daily Prayers to Combat Cancer is a prayer strategy, birthed out of compassion for one of my dearest friend's mother diagnosed with cancer. At the time, I was entirely unaware that my family would rely on the same blueprint shortly afterward. Eventually, the prayers and declarations in this book would become a conduit for God to bring health and wholeness to countless others.
Daily Prayers to Combat Cancer prayer strategy is designed to assist you in using God infused spiritual weapons of war:
• The Word of God
• The Principle of Agreement
• Prayer and Fasting
• The Name and the Blood of Jesus
With your weapons, you will speak life and move into the realm of the possibilities. "Jesus looked at them intently and said, "Humanly speaking, it is impossible. But with God, everything is possible" (Matthew 9:26).